As air conditioning specialists, Enviro Chill is committed to providing our Skelmersdale customers with an unrivalled level of service that will ensure your air conditioning systems routinely performs to its best abilities. We take great pride in delivering customer-focused air conditioning services, from installations to repairs, for homes and businesses across Skelmersdale.
Air conditioning services for Skelmersdale

Available to business and residential customers in Skelmersdale, Enviro Chill's team of experienced and qualified air conditioning engineers can perform a variety of comprehensive air conditioning services. We are regularly working on projects within the Skelmersdale area, from carrying out repairs and servicing of air conditioning units for local businesses to ensuring homes are benefiting from heating and cooling with the latest air conditioning equipment. Whatever the job, our team can match the right service for what you require.
If you are based in Skelmersdale and require a trustworthy commercial or domestic air conditioning unit or service at a competitive price, we at Enviro Chill can offer tailored solutions for even the most exacting of requirements.
Take a look at our air conditioning services available for Skelmersdale customers below:
We also offer a variety of commercial refrigeration services for Skelmersdale-based businesses, including cold-room installations, as well as the supply and installation of commercial chillers and meat fridges.
Air conditioning installation in Skelmersdale
At Enviro Chill, we offer the installation of high-performance air conditioning systems, manufactured by household names such as LG, Mitsibushi and Toshiba, at a competitive price for our Skelmersdale customers. We boast one of the most expansive ranges of high-quality air conditioning units available anywhere in the North West, including single split units to wall mounted air conditioning systems.
Our team of experienced engineers can help match the right air conditioning equipment for commercial or domestic end-users alike. From retrofitting older units and performing installations of brand-new models, our cost-effective installation services are designed to offer customers a significant return of investment.
Air conditioning repair in Skelmersdale
Available for both first-time and long-standing customers, Enviro Chill provides swift and reliable air conditioning repair services for our Skelmersdale clients. Whether you are experiencing faults with your workplace air conditioning system or if your home air-con unit requires urgent maintenance, we offer a 24/7 breakdown maintenance service to ensure we're there exactly when you need us. Our emergency air conditioning repair service is designed around the needs of our customers, meaning we'll fix your air-con unit at a competitive price.
Air conditioning servicing in Skelmersdale
If you're looking for a cost-effective solution for ensuring regularly air conditioning maintenance, we offer tailored service plans for our Skelmersdale customers. Starting at as low as £50 per annum, air conditioning service plans from Enviro Chill are designed to help our clients prevent unnecessary downtime by ensuring minimal disruption throughout the year. From simple inspections with written reports to thorough maintenance of air conditioning systems, all our servicing plans are built to match your budget and your requirements.
Why Skelmersdale chooses Enviro Chill for air conditioning services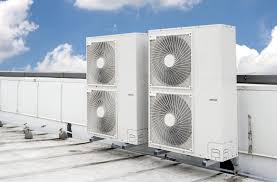 As air conditioning specialists, we at Enviro Chill have gained a reputation for delivering exemplary customer service and providing first-rate air conditioning services throughout Skelmersdale. Over the years, we have gained a loyal client base of local businesses and established franchises across the North West, while building a reputation of offering air conditioning services which are carried out to the highest possible standards.
Services such as our cost-effective air conditioning repairs and maintenance have helped ensure our clients system remain safe, reliable and complaint all year long. When you invest in one of our services, you can rest assured that you are in the hands of qualified and experienced professionals, capable of managing any air conditioning requirements for your home or workplace. We pride ourselves on offering bespoke, customer-focused solutions and being able to assist domestic and commercial clients with any project, no matter the size or scale.
For all air conditioning services in Skelmersdale, speak to Enviro Chill today on 0151 268 1851 or contact us online and discuss your requirements for a free, no-obligation quote.