Air Conditioning Service Liverpool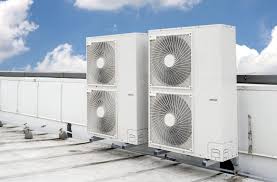 Here at Enviro chill, we can offer residential and commercial end users a wide variety of solutions including a full and comprehensive air conditioning service in Liverpool. We know how important it is for you to have air conditioning systems that work without problems to the greatest efficiency, and this is why we offer a complete solution whatever type of service you require, getting the job done right as per your requirements.
Working with both commercial and residential clients on small or major scopes of work, we complete everything from regular air conditioning servicing to complete installations on buildings of all sizes.  Whether you require retrofit air conditioning or a system that provides you with both heating and cooling in a new build project, we always work to the highest possible standards and deliver a standard of service that is second to none.
Heating and cooling air conditioning in Liverpool tailored just for you
With our expertise, you can have a tailored solution that provides you with the ideal solution no matter what the weather has in store. At Enviro Chill, we offer an air conditioning service in Liverpool that is perfect for your workplace and we are known for the reliability, usability and affordability of our products.
We can offer you a FREE quote for any of our services and come to visit you at your home or workplace to perform a site survey and discuss the plans you have in mind. When you contact us you can rest assured knowing you are dealing with air conditioning professionals that have many years of experience and a high level of knowledge in the industry. 
Why choose us for a quality air conditioning service in Liverpool?

At Enviro Chill, we offer the installation of air conditioning in Liverpool and throughout the UK, with cost-effective solutions that are tailored to your individual circumstances. We provide a reliable and dependable service, specialising in all aspects of cooling, and delivering a 365 day, 24 hour breakdown service for your convenience.
No matter what you require, we are here to help and can offer you expert advice and guidance with a free, no obligation quote for any work that you require.
Please call us to find out more and to see how our air conditioning service in Liverpool can be of service to you. Get a free site survey by calling us today on 0151 2851818 or contact us online.