Refrigeration & Air Conditioning Engineers Chester
Expert Air Conditioning and Refrigeration Services in Chester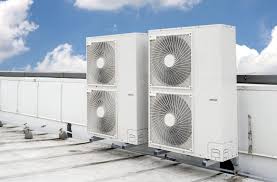 Here at Enviro Chill, we take great pride in delivering tailored and definitive air conditioning and refrigeration services to customers across Chester. Trusted as an authority on every element of commercial and domestic refrigeration and air conditioning, we can help you to choose your ideal solution from a range of commercial chillers, comprehensively install air conditioners and resolve any persistent malfunctions with ease and finesse.
Our work in the Chester region has helped our reputation soar. Efficient and customer-focused, we specialise in identifying the right products for your environment and ensuring that all installed air conditioners and refrigeration units perform to optimal standards.
If you're based in the Chester area and require trustworthy and efficient commercial or residential environmental cooling solutions or top-grade refrigeration, we can provide you with a tailored solution guaranteed to meet even the most exacting of requirements.
Our Refrigeration Engineers in Chester
Contact us today and learn of the prowess of our refrigeration engineers. With a wealth of experience and holding all relevant accreditations, our engineers can advise, install or resolve any commercial refrigeration issue you may have.
From completing routine inspections and resolving all issues associated with of malfunctioning units to installing commercial chillers within a challenging, environment, our engineers have the acumen to help you. We have helped customers across Chester through our range of services. These include:
Our Air Conditioning Engineers in Chester

Contact us today and learn how we can swiftly and comprehensively resolve any issues that you may be experience with the efficiency of your air conditioning systems. Whether you believe your air conditioning unit to be malfunctioning or require the installation of an entirely new commercial air conditioning system, we can help you.
All our engineers have undertaken rigorous training and are highly-qualified. This puts them in the ideal position to advise you – or resolve any ongoing issues that you may be experiencing. We will tailor an air conditioning system to your environment.
Take advantage of our 24-hours a day 356-days a year service. Whether your air conditioning units begin to suffer and fail, or you require reliable commercial chillers at short notice for your restaurant, we can help.
To discover more about why we have earned our reputation as one of the foremost air conditioning and refrigeration specialists in Chester, or if you'd like to discuss any specific requirements,call us on: 0151 2851818 or get in touch with us today.