Here at Enviro Chill, we are committed to providing exemplary air conditioning services to business and residential customers across Birkenhead and the Wirral. Whether you are in the market for a brand-new air conditioning unit from a leading manufacturer or need high-quality maintenance and repair services for an existing system, our team of dedicated air conditioning specialists are here to help.
Why Birkenhead chooses Enviro Chill for air conditioning services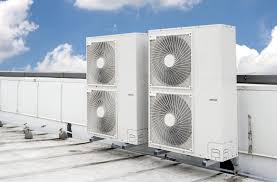 Renowned across Birkenhead and the wider Wirral region, Enviro Chill's reputation for delivering tailored and exceptional workmanship and customer-focused air conditioning services are second to none. As such, we are trusted by a range of businesses who have been regular clients for years throughout Birkenhead, from local businesses to established franchises.
Here at Enviro Chill, we provide our Birkenhead clients with expert advice to help ensure you are getting the most out of your air conditioning system, as well as investing in the right services for your requirements. Along with free, no-obligation quotes, our team can also carry out site visits to discuss any jobs in person.
Our highly experienced and fully qualified air conditioning engineers are well-equipped to manage any customer requirements. From carrying out routine inspections and repairing existing equipment to comprehensive installations of new air conditioning systems, our dedicated team has the expertise to confidently manage any requirements you may have.
As leading air conditioning service providers, Enviro Chill only supplies our Wirral-based clients with the latest products from leading air conditioning manufacturers, including Daikin, Fujitsu and LG. As such, Enviro Chill has become widely regarded by domestic and commercial clients alike for the reliability, usability and affordability of our products.
Air conditioning services for Birkenhead

Here at Enviro Chill, our experienced air conditioning engineers can manage all manner of commercial and domestic air conditioning requirements. Fully-qualified and comprehensively trained, our dedicated engineers can resolve any issues decisively. Whether your office air conditioning units are unresponsive in the height of summer or if you're determined to starve off humid summer heat at home, we can repair and install air conditioning units to the highest standards.
We boast a comprehensive range of high-quality air conditioning services for our commercial and domestic clients in Birkenhead, including:
Additionally, we also provide a variety of commercial refrigeration services for businesses in Birkenhead, such as cold-room installations and supplying and installing commercial chillers and meat fridges.
Air conditioning repair in Birkenhead
If you require air conditioning repair that is fast and effective, our 24/7 breakdown service simply can't be beaten. Available for new and old clients alike, our cost-effective air conditioning service is designed to accommodate customers in their hour of need. Whatever the issue, our team of experienced engineers will be able to help identify the cause and fix your air-con system at a competitive price.
Air conditioning servicing in Birkenhead
For a bespoke air conditioning maintenance service, Enviro Chill offers Birkenhead-based customers tailored service plans. Starting at £50 per annum, our air conditioning servicing plans help ensure minimal disruption to your business and avoid costly downtime at an affordable price. All service plans we provide are customised to the requirements of each client and their budget, allowing air conditioning units to routinely perform to their best.
Air conditioning installation in Birkenhead
Available for both commercial and domestic end-users, our air conditioning installation services are among the most adaptable anywhere in the Wirral. Our team of seasoned air conditioning engineers can install a variety of units, including mounted air-con systems to more advanced products with cassette or ducted features. From retrofitting older units to installing the latest air conditioning systems, Enviro Chill engineers carry out all installations to the highest possible standard and at competitive prices.
For all air conditioning services in Birkenhead, speak to Enviro Chill today on 0151 268 1851 or contact us online and discuss your requirements for a free, no-obligation quote.