Enviro Chill offers high-quality air conditioning services for businesses and residential customers in Warrington. As leading air conditioning service providers, we offer everything from domestic or commercial air conditioning system repairs to air conditioning servicing plans for our Warrington-based customers.
Why Warrington chooses Enviro Chill for air conditioning services?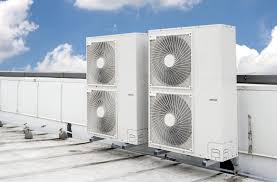 Based in the heart of the North West, Enviro Chill has an unrivalled reputation for building long-lasting relationships with all our Warrington-based clients. We have achieved this by offering air conditioning services which provide our customers with value for money and help achieve maximum efficiency of their air conditioning systems. Since 2013, we have worked with a variety of Warrington businesses, from local and grassroots enterprises to big-chain institutions, striving toward our commit for delivering customer satisfaction – regardless of how big or small the job is!
As leading air conditioning service providers, Enviro Chill only supplies clients with the latest units from leading air conditioning manufacturers, such as Daikin, Fujitsu, LG and Toshiba, We only source air conditioning systems from reputable manufacturers to guarantee our Warrington-based customers benefit from expertly crafted air-con units. As such, Enviro Chill has become widely regarded within the North West for the reliability, usability, and affordability of our products.
Because understand the importance of air conditioning systems within your home or place of work, we provide all Warrington-based customers with expert advice, ensuring you are getting the most of your units and the right services for your requirements. Along with free, no-obligation quotes, we can also perform on-site surveys to discuss any work required in person.
Air conditioning services for Warrington customers

Enviro Chill offers a variety of comprehensive air conditioning services, performing jobs for both commercial and domestic clients in Warrington. We have a team of dedicated, rigorously-trained air conditioning engineers that regularly work on projects of all sizes, ranging from standard air conditioning repair and maintenance through to complete servicing on systems for big businesses and larger residential premises.
If you require a retrofit air conditioning service, or installation of a brand new system for heating and cooling within new builds, Enviro Chill will deliver an air conditioning service that is truly second to none.
View our air conditioning services for Warrington-based customers below:
We also provide a variety of commercial refrigeration services for businesses in Warrington, such as cold-room installations and supplying and installing commercial chillers and meat fridges.
Air conditioning repair in Warrington
If you require an air conditioning repair service that's fast and effective, Enviro Chill offers all Warrington clients a 365-day, 24-hour breakdown service. Available for new and old customers alike, our cost-effective air conditioning repair services are designed to ensure that regardless of what issue you may encounter with your air conditioning system, our team of experienced engineers will be there for you in your time of need.
Simply call our team as you need us and we'll be out in a flash to fix any problem with your air-con unit, at prices which won't be beaten!
Air conditioning servicing in Warrington
Starting at just £50 per annum, our air conditioning service plans are designed to provide Warrington customers with a more cost-effective means of your systems are regularly serviced and performing at their highest capabilities. Tailored to meet the precise requirements of your business, each air conditioning service plan we offer is uniquely designed for each of our clients and their budget requirements.
By investing in an air conditioning service plan from Enviro Chill, you can help avoid any unnecessary breakdowns, as well as remove the risk of disruptions to day-to-day operations or general inconvenience at your home or workplace.
Air conditioning installation in Warrington
As well as maintenance and repair services, Enviro Chill also offers installations of high-performance air conditioning systems for commercial and domestic-end users in Warrington. We can install a variety of models, from wall and floor-mounted air conditioning systems to more advanced units such as cassette and ducted air conditioning systems.
Our team of experienced engineers have countless years' experience in carrying out a variety of air conditioning installation services. From retrofitting older units to installing state of the art air conditioning systems, our comprehensive installation services are carried out to the highest possible standards and rank among the most cost-effective available in the North West.
For all air conditioning services in Warrington, speak to Enviro Chill today on 0151 268 1851 or contact us online and discuss your requirements for a free, no-obligation quote.