As leading North-West based air conditioning engineers, Enviro Chill's coverage extends to all business and residential customers within the St Helens region. Ranging from installations of high-quality air-con units to emergency repairs, we offer the most comprehensive air conditioning services available anywhere in St Helens.
Air conditioning services for St Helens

Available to commercial and domestic clients in St Helens alike, Enviro Chill's team of experienced air conditioning engineers regularly carry out varying air conditioning services on projects both big and small.
Whether you require a retrofit air conditioning service, such as replacing out-of-date units at the workplace to installations of high-quality air conditioning systems capable of providing heating and cooling to new build projects, our expert team will point you in the right direction.
View our air conditioning services available for customers in St Helens below:
Additionally, we also offer a variety of commercial refrigeration services for St Helens-based businesses, such as including cold-room installations, as well as the supply and installation of commercial chillers and meat fridges.
Air conditioning installation in St Helens
Our expert air conditioning engineers are well-equipped to provide a number of installation services for commercial or domestic end-users in St Helens. Whether you require retrofitted installations of older units to brand new, state of the art air conditioning systems, our customer-focused air conditioning installation services are designed to save you valuable time and money.
Enviro Chill also boasts one of the most expansive ranges of high-quality air conditioning systems, manufactured by industry-leading manufacturers such as Toshiba, LG and Mitsubishi – so you can be guaranteed of a high-quality service!
Air conditioning repair in St Helens
If you require an emergency air conditioning repair service, our cost-effective maintenance services are designed to help our St Helens customers in their time of need. Regardless if you are a long-standing client or a first-time customer, our team of dedicated air conditioning engineers will promptly resolve any issues you might encounter with your air conditioning system.
Here at Enviro Chill, we understand just how disastrous it can be for your business, should your air conditioning unit suddenly experience faults or breaks down entirely. As such, we provide a 24/7 breakdown service, so that you rely on our qualified engineers to resolve the situation efficiently as soon as it arrives.
if your air conditioning unit experiences suddenly experiences faults or breaks down entirely.
Air conditioning servicing in St Helens
As air conditioning specialists, we provide our St Helens customers with a variety of bespoke servicing plans, starting from as low as £50 per annum. Designed to ensure minimal disruption to your business, our air conditioning service plans are tailored to the needs of each individual client. Whether you require simple inspections and written reports on any work our engineers carry out or in-depth maintenance of your air-con units, all service plans are custom-built to the requirements of your business and budget.
By investing in an air conditioning service plan from Enviro Chill, you can help avoid any unnecessary breakdowns, disruptions and general inconvenience to day-to-day operations of your business and above all, ensure your air conditioning system routinely performs to a high standard.
Why St Helens chooses Enviro Chill for air conditioning services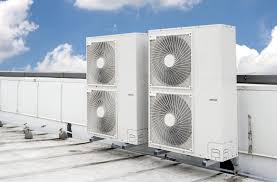 Here at Enviro Chill, we understand the importance that fully functioning air conditioning units can have on your workplace or home. Since 2013, we have been committed to building long-lasting relationships with all of our St Helens clients, by regularly delivering total customer satisfaction with the services and products we provide. As a result, Enviro Chill has gained a reputation as one of the most trustworthy and dependable air conditioning service providers within the North West.
Our team of experienced and qualified air conditioning engineers are always on-hand to offer customers expert advice, with a free, no-obligation quote for any work required. We can also perform on-site surveys prior to jobs, to discuss any requirements in person.
For all air conditioning services in St Helens, speak to Enviro Chill today on 0151 268 1851 or contact us online and discuss your requirements for a free, no-obligation quote.