The British weather is famously unpredictable, with fluctuations in temperature across the year. Staying comfortable during those extended heat waves and icy blasts isn't always straight forward. No matter how well you ventilate your home when it's warm or turn up the heating when it's cold, achieving the right temperature is not always easy.

Domestic air conditioning can change all that. Less common in the UK than in some countries overseas, it's growing in popularity as more people start to appreciate the benefits it can bring to a home.
Domestic air conditioning services in Liverpool, the North West & beyond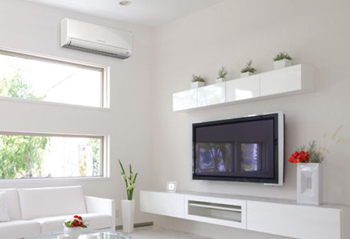 At Enviro Chill we're one of the UK's leading providers of efficient and affordable residential air conditioning systems. Based in Liverpool and working across the wider North West, we create bespoke and effective home air conditioning systems for a wide variety of domestic settings.
The benefits of domestic air conditioning
There are lots of good reasons to install air conditioning in your home. Our customers are always delighted with their new air conditioning, with many wondering why they didn't have it installed earlier.
Here are just a few of the benefits that a contemporary air conditioning system for your home can bring:
You can maintain a steady, comfortable temperature all year round, making your home a sanctuary from whatever the weather outside is doing.
Poor air quality in some parts of the UK is a real problem, with serious consequences for public health. Air conditioning helps to circulate and filter the air. It helps to remove pollutants from the air, reducing the health risks. This can be particularly important for asthma and allergy sufferers.
A modern home air conditioner allows you to sleep more easily. Whether in the sticky heat of the summer, or a cold winter's night, the steady ambient temperature provided by modern air conditioning systems makes for a more comfortable environment in which to sleep.
During the winter months, an air conditioning system can help to reduce your heating bills. Modern systems can convert ambient air into cool or warm air.
An air conditioning system helps to make your home more appealing to a variety of potential homebuyers.
They can help to dehumidify your home, reducing the risk of problems such as damp, particularly in older properties.
Smart temperature control means that you can make your home warmer or cooler at the touch of a button.
Modern units are efficient, discreet and don't take up much space.
These are just the tip of the iceberg. If you'd like to know more about some of the benefits of an air conditioning system, then our friendly professional team would love to hear from you.
Are domestic air conditioning units expensive to run?
It's a common misconception that air conditioning systems are expensive to run. While old, outdated units can be more costly to run and maintain, modern efficient domestic air conditioning is highly cost-effective. Because it helps to maintain a steady ambient temperature in your home it reduces the need for fluctuations in your heating. As with other technology, improvements and innovations are making air conditioning units increasingly efficient to run. Thanks to new inverter technologies, many air conditioning systems are given the highest A+++ rating for energy efficiency.
A contemporary, bespoke air-conditioning system for your home really won't cost the earth!
Air conditioning units designed for your home
Not all air conditioning systems are the same. Some may not offer the optimum solution for your home, which is why every system we install at Enviro Chill is completely bespoke.  You don't have to have an old fashioned, ugly and distracting air conditioning system cluttering up your home. Instead, our units are discreet, efficient and modern, helping them seamlessly blend in with your home décor.
Using your exact specifications, our experienced and professional team will install an efficient and effective air conditioning system for your home.
Domestic air conditioning installation in Liverpool and across the North West
We're based in Liverpool, and have clients across the North West. Whether you're in Chester, Skelmersdale, Warrington, St Helens, Birkenhead or elsewhere in the region, we can get your new air conditioning system up and running safely in no time at all.
Available for both domestic and commercial clients, our air conditioning installation services are among the most adaptable in the region. Our team of experienced and qualified engineers can install the perfect air conditioning system for your home in no time at all. Whatever your requirements, we provide an efficient and professional installation service that is tailored to your needs.
A wrap-around service
We offer more than just air conditioning installations across the North West and beyond. We're also here to ensure that your system keeps on working efficiently, and problem-free for years to come. Our service and maintenance contracts start from just £50 a year, giving you complete peace of mind.
What's included…
A 24-hour service – we're there for you whenever you need us to help get your air conditioning up and running again.
Emergency call-outs – you can enjoy your air conditioning system secure in the knowledge that if it breaks down, we'll be there to get it working.
Regular maintenance – we'll visit your home every six months to give your air conditioning system a thorough service, reducing the likelihood of it ever breaking down.
Upfront pricing – we'll make sure that you receive a full quotation for any work that requires the use of new parts before we carry out the work. You'll never be subject to any nasty surprises.
We appreciate that everyone has busy lives with lots to remember, so with our service and maintenance contracts, we'll contact you every six months to book a suitable time for a service visit.
Trust, reliability & a high-quality air conditioning service
At Enviro Chill, all our engineers are City & Guilds Qualified. We're committed to continual professional development, meaning our front-line team are always fully up to date with any developments. We make sure our engineers are continuously updated with any changes in legislation, so you can rest assured that you'll always receive the best possible service in the safest manner.
Since our launch in 2013, we've been committed to delivering total customer satisfaction, with an emphasis on building long-lasting relationships with all our clients. We ensure our clients benefit from the highest quality air conditioning systems, complete with comprehensive servicing packages to minimise the costs of any future repairs.
Our clients trust our high-quality, reliable service.
Your new domestic air conditioning system is just a phone call away

If you're interested in finding out more about air conditioning systems and the difference they can make to your home or if you'd like advice about your current system, we're always happy to answer your questions.
Our team of experienced air conditioning engineers offer expert advice, with a free, no-obligation quote for any work you may require. We can also arrange an on-site survey to better understand your specific requirements, and to answer any questions you might have.
Call us on 0151 285 1818, or use our online contact form to find out more.