Installing air conditioning is often seen as a complicated and disruptive process. It puts many people off considering air conditioning, even if their home may benefit from it. This is based on a number of misconceptions about air conditioning, particularly in the UK where we're less familiar with it in our homes.
So, what's the reality of air conditioning installation? How much does it cost? and might it be practical for your home?
This brief guide takes a quick look at some of the key considerations for air conditioning.
How much does air conditioning cost in the UK?
The overall cost of air conditioning differs widely, depending on the brand, type, and size of the air conditioning system your home needs. A standalone air conditioning unit is generally the cheapest, but they are not always the most effective option. Fixed air conditioners start at around £500, but the prices vary depending on the size of your property. Installation costs are around £1000 per indoor unit, and they must be installed and maintained by a registered gas engineer.
A comprehensive, tailored quote can give you an accurate idea of the costs. An experienced air conditioning supply and installation team will be able to visit your premises, assess what might be required and then talk you through your options.
Do you need planning permission for air conditioning?
Many people considering domestic air conditioning installation wonder what the rules and regulations are around planning permission, particularly if they live in a period property. Generally speaking, you won't require planning permission for smaller domestic air conditioning options. You will, however, need to ensure that your external air conditioning unit follows these regulations:
It isn't bigger than 0.6m³
It's over a metre away from any property boundaries
It is more than a metre away from the edge of a flat roof
It isn't fitted on a pitched roof
You'll also need to ensure that there isn't a wind turbine on the property.
However, there are a number of exceptions to this rule if your property is located in a particular designated area. These include:
National Parks
Areas of Outstanding Natural Beauty
A conservation area
World Heritage Site
If you live in a listed property, then you will need to seek permission before going ahead with the installation. It's prudent to contact your local authority planning department for guidance before going ahead with an installation.
Can you install domestic air conditioning units yourself?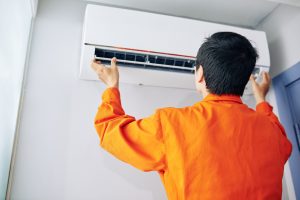 While it may be possible to install some air conditioning units yourself, it's not particularly advisable. Nor is it always the best policy to employ a general tradesperson to fit your air conditioning. You wouldn't want an air conditioning engineer to install a new kitchen or build a conservatory, so don't leave the installation of air conditioning to a builder or another tradesperson. Mistakes can be costly to rectify.
Why choose professional domestic air conditioning installers?
A registered engineer will carry out the process professionally and with minimal fuss, ensuring that your air conditioning unit is operating as it should. Safety is a key consideration and registered engineers understand the current regulations. They will ensure that your air conditioning unit is fully compliant.
Having your air conditioning installed by a registered engineer can save you a lot of stress going forward. They will have all the necessary equipment on hand, will have encountered a wide variety of installations and overcome challenges. This experience, knowledge and attention to safety compliance will give you peace of mind about your air conditioning. Often the installation team can take care of the ongoing maintenance, meaning they will be familiar with your system when they visit.
If you're looking for domestic air conditioning installation UK, then a professional installation team should be your first choice.
Domestic air conditioning installers near me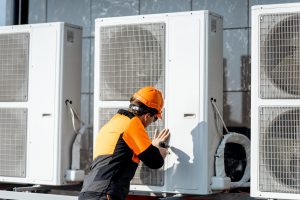 If you're looking for experienced air conditioning installers and you live in the North West of England, then you should look no further than Enviro Chill. We're based in Liverpool and have clients across the North West. Whether you're in Chester, Skelmersdale, Warrington, St Helens, Birkenhead or elsewhere in the region, we can get your new air conditioning system up and running safely in no time at all.
Available for both domestic and commercial clients, our air conditioning installation services are among the most adaptable in the region. Our team of experienced and qualified engineers can install the perfect air conditioning system for your home in no time at all. Whatever your requirements, we provide an efficient and professional installation service that is tailored to your needs.
For advice about air conditioning for your home and to have your questions answered, please don't hesitate to get in touch with our team of professional engineers.