Whether you're opening a brand-new restaurant or renovating an existing establishment, one of the key questions you'll need to ask is how you will handle your cold storage and refrigeration.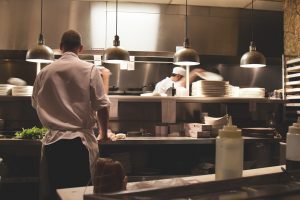 For many catering businesses, a walk-in cold room is an optimal solution.
So, what exactly is a cold room and what benefits can it bring to your business?
What is a cold room?
A cold room is essentially a refrigerator on a much larger scale. It allows for the storage of perishable items at the correct temperature, in the quantities required for running a commercial operation. They are most commonly used in catering operations but are also found where pharmaceutical products need to be stored. A walk-in cold room is just that, a large, refrigerated unit that allows you to walk in, store and retrieve anything you require.
How do cold rooms work?
A cold room contains the following components:
● Compressor – compresses the refrigerant gas.
● Condenser – cools hot gas into a cold liquid.
● Expansion valve – controls the flow of liquid gas and cools the coil by absorbing energy.
● Refrigerator fans – circulates air over cold evaporator coils and cools the room.
● Cold room door – a rigid door with excellent insulation to help maintain the temperature in the cold room.
Why does a restaurant need a cold room?
A cold room is a key requirement for most restaurants. If you are catering on any scale, then the ability to store perishable goods for any length of time is vital. Cold rooms expand your capacity and reduce the need for daily deliveries. This, in turn, helps to drive down costs.
A cold room also allows you to store items easily, meaning that you won't have to struggle to find things when your restaurant gets hectic. In a busy kitchen, this can make all the difference.
The amount of waste your business generates is also reduced by a walk-in cold room. This will ultimately have a positive impact on your overheads.
Enviro Chill can create the ideal cold room for your business
As one of the UK's leading suppliers and installers of cold rooms, we understand what your business needs when it comes to cold storage. We can install both commercial chillers and freezer cold rooms in a variety of sizes, from small modular cold rooms, to larger units for bigger restaurants. We can also create an entirely bespoke solution.
Our engineers will work with you to find out your requirements, and how a highly functional cold room can be created within the space you have available. We also understand that every restaurant operates in a strict budgetary environment, and any solution we come up with will be firmly within your available budget. Whatever the size of your business and the scale of your ultimate ambition we can help.
Our team of professional engineers are always on hand to answer any questions you might have. Why not contact us to find out more about our commercial refrigeration services, and to book a free site survey and quotation? Or call us directly on 0151 285 1818 or email sales@enviro-chill.co.uk to chat to a member of our team about your cold room requirements.