Domestic air conditioning is, to a large degree, still something of an unknown quantity in the UK. As increasing numbers of us consider it for our homes, we might wonder which is the best brand for a domestic installation?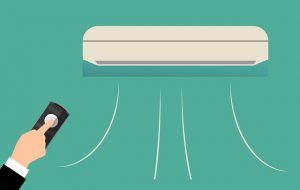 How do you choose an air conditioning brand and what kind of issues should you consider before making a decision?
How to choose the best air conditioner for your home
As air conditioning for our homes isn't something that most Brits will have considered before, we might not know what to look for in an air conditioning unit.
Here are a few factors to consider before you make your choice.
Type
What type of air conditioning unit would be the most appropriate? In most situations, the most efficient choices will be a wall-mounted split air conditioning unit or central air conditioning, rather than a portable standalone unit. Neither of these cost any more to run than a standalone unit and are likely to be more effective, efficient, and durable over time.
Other factors you'll need to consider are the British Thermal Unit (BTU) measurement of the unit and Energy Efficiency Ratio (EER). The BTU will tell you how efficient the unit will be at cooling down the room, and the EER indicates how efficient it is.
Air Conditioning Brands
Let's take a look at some of the leading air conditioning brands, their particular strengths and what they can offer.
Toshiba
A Toshiba air conditioner can offer you real innovations that reduce the amount of energy required to run them. As a result, they're cheaper and better for the environment. Their units are well-regarded by installers and are known for their reliability, energy-saving design, efficiency, and attractive looks. They offer cost savings that don't compromise on quality and durability.
With an eye to the future, Toshiba is working hard to reduce the carbon footprint of their operation, as well as the carbon emissions of their air conditioning units. In 2012, Toshiba Air Conditioning achieved Carbon Neutral status for its UK division.
Samsung
Samsung makes air conditioning units that are quiet to run, reliable and energy-efficient. Incorporating their world-famous attention to detail and engineering excellence into everything they do, a Samsung air conditioner is a reliable choice.
Samsung entered the air conditioning market in 1980, and over recent years they have stepped up their operation. Samsung is now a leader in technology and efficient air conditioning systems for domestic and commercial applications.
Daikin
Daikin has developed a range of air conditioning systems that make intelligent use of space and are quiet, making them ideal for domestic installations. Their units are classified with the highest energy efficiency ratings on the market.
Control systems allow for individual rooms to be managed in terms of temperature when standby settings and comfort settings are activated, and fresh air is introduced into the building. This contributes to the wellbeing of occupants and a sense of being in a fresh and healthy environment. A Daikin air conditioner offers straightforward installation and ongoing maintenance.
Fujitsu
Fujitsu is a world-class brand, known for its innovation and high-quality, affordable products. Their air conditioning units are no exception. A Fujitsu air conditioner benefits from a programme of industry-leading research, making them a state-of-the-art option for your home or commercial premises.
The business has recently invested a further £14 million in research & development in the UK as part of an overall £800 million investment. This illustrates how competitive an environment air conditioning manufacturing has become, with some of the world's top names when it comes to technology, investing huge sums into R&D. In such a marketplace, it's the consumer who ultimately benefits.
Mitsubishi
Guiding Mitsubishi's programme of research and development has been a concern to drive down costs for homeowners and commercial operations when it comes to air conditioning. If you purchase a Mitsubishi air conditioner, you're investing in one of the best on the market. Mitsubishi air conditioning systems are able to provide comfort in winter as well as summer. With a 'quiet as a mouse' operation, there's nothing intrusive about Mitsubishi air conditioning.
LG
LG manufactures a range of high-performance air-con equipment that are attractive as well as efficient. They can be customised with artwork or mirrored finishes that complement your branding in a commercial setting. Their split air conditioners allow you to regulate the temperature in different parts of the building.
Unpredictable weather conditions and seasonal changes can be dealt with by automatic switches which respond to fluctuations with appropriate cooling and heating to keep optimum temperatures whatever you're doing. An LG air conditioner can provide 'library quiet' air conditioning for both commercial and residential settings.
Which is the best air conditioner brand in the UK?
Many world-class companies are competing with each other to drive innovation, push down costs and to create attractive, efficient air conditioning units that meet the requirements of a wide range of settings. Whether you're looking for a commercial or domestic unit, modern air conditioning units offer space-conscious solutions that are a world apart from older models.
Contemporary air conditioning units offer efficiency, reliability, and quiet operation. They're well-designed to make intelligent use of space, meaning they're suitable for a wide range of settings.
With so much research, new innovations and downward pressures on prices currently taking place now is an excellent time to invest in air conditioning.
For advice about air conditioning brands for your home or commercial premises please don't hesitate to get in touch with our team of professional engineers. We can answer your questions and advise what might be the best air conditioner for your home or business premises.