As a leading air conditioning service provider, Enviro Chill offers businesses and residential customers in Liverpool a range of unrivalled air conditioning services. From installations to repairs, we pride ourselves on delivering effective air conditioning systems for domestic and commercial Liverpool-based customers alike.
Why Liverpool chooses Enviro Chill for air conditioning services?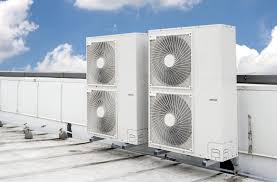 Operating from our Liverpool head-offices, Enviro Chill have gained a reputation as one of the most reliable and reputable air conditioning system suppliers and installers within the North West. Since 2013, we have been committed to delivering total customer satisfaction, with an emphasis on building long-lasting relationships with all our clients. Over the years, we have worked with a variety of Liverpool-based businesses, from long-standing institutions such as Grand Central Hall on Renshaw Street through to local businesses. We ensure clients benefit from the highest quality air conditioning systems, complete with a comprehensive servicing package to minimise costs of any future repairs.
We understand the importance of a fully functional air conditioning system for your home or workplace. As such, Enviro Chill offers all Liverpool-based customers complete turnkey solutions, regardless of which air conditioning service you need. Our team of experienced air conditioning engineers offer expert advice with a free, no-obligation quote for any work required. We can also perform an on-site survey to discuss any air conditioning requirements you have in mind in person. Best of all, Enviro Chill offers all Liverpool business and residential clients a 365 day, 24-hour breakdown service – meaning we're here for you in your time of need!
As leading air conditioning system providers, Enviro Chill only supplies clients with units from industry-leading manufacturers, including Daikin, Fujitsu, Hitachi, LG, Mitsubishi and Toshiba. By only using reputable air conditioning manufacturers, Enviro Chill has become widely regarded for the reliability, usability, and affordability of our products. As such, we guarantee our Liverpool-based customers will benefit from an expertly crafted air conditioning system.
Air conditioning services for Liverpool

Working with both commercial and domestic clients in Liverpool and Merseyside, Enviro Chill offers a variety of comprehensive air conditioning services. Our team of experienced air conditioning engineers regularly work on both small and major projects, from carrying out regular air conditioning servicing through to complete installations on buildings of all sizes.
Whether you require a retrofit air conditioning service, or a brand new air-con system capable of providing heating and cooling within a new build project, Enviro Chill always aims to deliver a standard of service that is second to none.
View our air conditioning services available for customers in Liverpool and Merseyside below:
We also provide a variety of commercial refrigeration services for businesses in Liverpool, including cold-room installations, as well as the supply and installation of commercial chillers and meat fridges.
Air conditioning installation in Liverpool
At Enviro Chill, we offer the installation of high-performance air-conditioning systems in Liverpool and the wider Merseyside region.  Whether you are commercial or domestic end-user, our team of experienced engineers are adept at providing air conditioning installation services for a variety of job-sizes. From retrofitting older and outdated air conditioning systems, to brand new projects, our comprehensive installation services are designed to save customers valuable time and money.
Ranging from single split air conditioning systems to wall-mounted systems, Enviro Chill can install a wide range of air conditioning systems for Liverpool business and residential clients. We boast one of the most expansive ranges of high-quality air con-units available in the North West.
Air conditioning repair in Liverpool
Should you require fast and effective air conditioning repair, Enviro Chill offers cost-effective emergency maintenance services for all businesses within Liverpool and Merseyside. Whether you are a first-time customer or a long-standing client, our team of experienced engineers are only ever a phone call away and will promptly resolve any performance issues you may encounter with your air conditioning system, at a competitive price.
We are available for air conditioning repairs in the North West 24 hours a day, 365 days a year.
Air conditioning servicing in Liverpool
Designed to provide our Liverpool customers with a more cost-effective solution for ensuring air conditioning systems routinely perform to a high standard, we offer on-going service and maintenance plans. Our air conditioning service plans help avoid unnecessary breakdowns, as well as disruptions and general inconvenience to day-to-day operations.
Starting at just £50 per annum, all air conditioning service plans from Enviro Chill are tailored to the needs of each client. Whether you require a simple inspection and written reports on work carried out or bespoke, in-depth maintenance services, we tailor our service plans to the requirements of your business and budget.
For all air conditioning services in Liverpool, speak to Enviro Chill today on 0151 268 1851 or contact us online and discuss your requirements for a free, no-obligation quote.